Tutorial
Surviving 5 minutes in Crypt Wizard
Apologies in advance: The tileset used in this tute is out of date but hopefully you get the idea.
1) dig out a stockpile
click dig/chop button
click top left corner and drag a box 4x3 (or 3x4 or any size but something x3)
try and build your stockpile toward the map edge to minimise risk of digging into open cave
watch the dwarf dig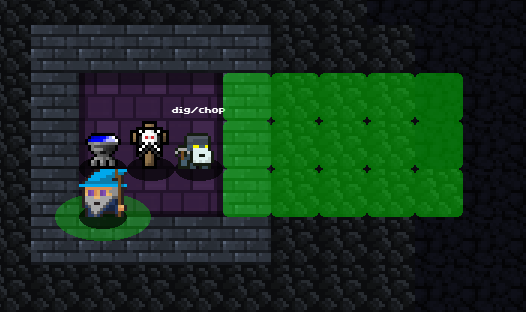 left click wizard, click on build room, then select stockpile
place stockpile buy moving the box to the newly dug area - and when it turns green click to place. The stockpile will auto size to be as big as possible.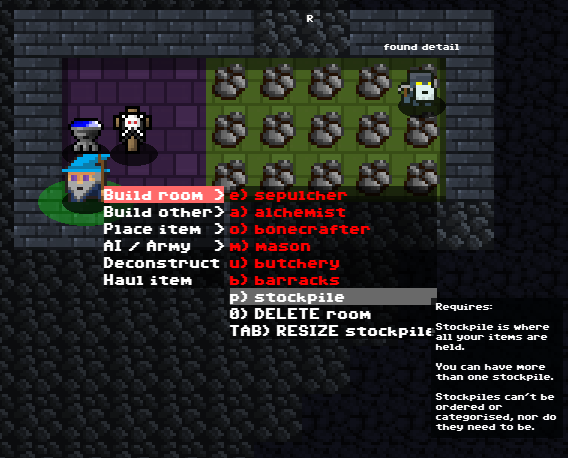 2) dig a 3x3 space for a mason
dig 3x3 space for a room
click wizard, click on build room, select mason
move box to centre of dug room and click when it turns green
3) at the mason build 3 deathbeds, and 2 pedestals and a door
click on the mason room
click deathbed 3x
similarly, click pedestal twice
similarly, click door once
4) dig out 3 bedrooms for dwarves - they are 2x2 in size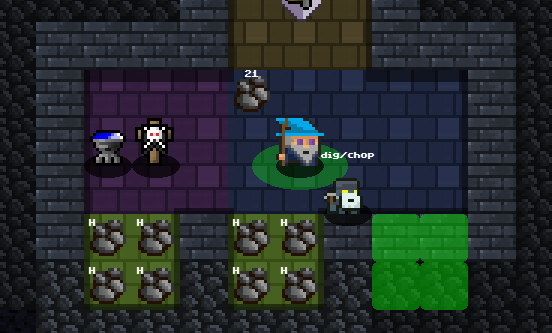 5) dig space for door and passage out of your dungeon, to funnel invaders towards your pylon
Your pylon not only provides supply but is also a defensive structure and will shoot at enemies.
Try and tunnel out like this: note the door is close to the pylon
to actually build the door:
click the wizard
click build other
click door
place door where desired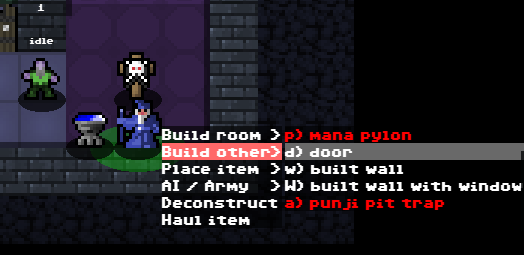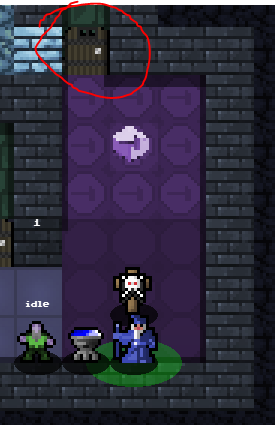 6) scout for marble, the rock you need to make your spawners with. Methods for scouting ...
once you have a pylon+door you can safely (for a while) dig out everywhere as the door will block invaders while the pylon shoots them
marble is cicled below in red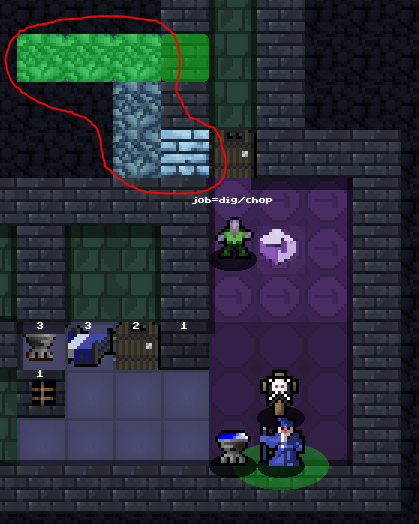 7) at the mason your dwarves will auto-craft spawner skulls (since presently it is the only thing you can make out of marble)
8) make a barracks. For each barracks you need:
a pedestal
a spawnerskull, made from marble
dig out a 3x3 room
make the barracks just like the other rooms
That is just the beginning ... !
with a butcher you can turn corpses into bones, brains and flesh (they are autocrafted)
with the bones you can make bows, armour & bone spikes at the bonecrafter
with the bone spikes you can make punji traps to slow invaders down
you can also craft weapons at the bonecrafter
if you make bows and place them in a barracks that barracks will spawn archers
if you build a barracks on a gravestone a ghoul will spawn
if you build a barracks on a coffin a vampire will spawn
if you find an urn, place it in a barracks to spawn a ghost
similarly with phylactery, place it in a barracks to spawn a lich
At the alchemist you can extract life essence from brains
With life essence + stone totems (crafted at the mason) you can build spell totems which unlocks your wizard spells
There are 3 wizard spells: Heal, Sleep & Charm
Also at the alchemist you can create flesh golems out of flesh!
you can move pylons - stand your wizard on the pylon and using the menu select deconstruct. Once the source mats have been moved to the stockpile you may rebuild the pylon as normal: ie click wizard, build other, select pylon.